Transforming food systems to build resilience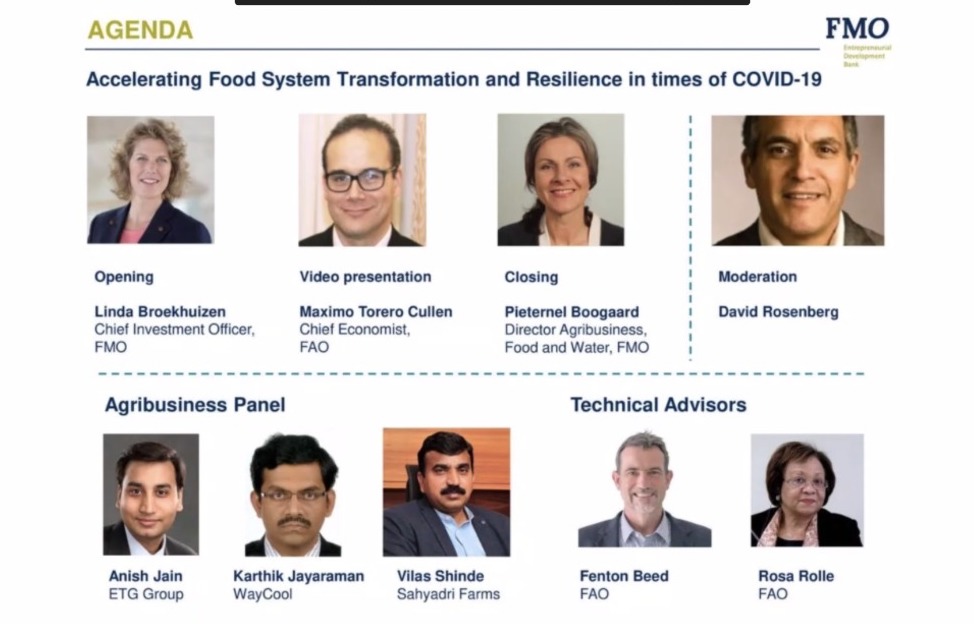 I recently took part in a webinar jointly organised by FMO (the Dutch Entrepreneurial Development Bank) in partnership with FAO (Food and Agricultural Organisation of the United Nations), titled 'Accelerating Food System Transformation and Resilience in times of COVID-19.' Presenters and panellists shared their views on how resilience can be built into the production, processing and distribution stages of food supply chains, in anticipation of the fallout from the pandemic. There was a good mix of both technical perspectives, delivered by experts from FAO's Economic and Social Development Department, and practical anecdotes about adaptive measures put in place shared by three agri-business representatives, including Anish Jain, Chief Treasury Officer of ETG, who also heads the sustainability portfolio.
There was, of course, plenty of bad news. 250 million people are expected to face severe food insecurity in the near future, mostly in Africa. Global trade took a battering as a consequence of borders shutting and export restrictions. Even though most countries have now opened up, the economic recession is predicted to cause a nearly universal decline in GDP. Africa, which is heavily dependent on food imports, is particularly vulnerable. There is a very real fear, as outlined in this bleak New York Times piece, that the strides we have made over the last few decades in building a middle class across the continent might be outdone as a result as the pandemic, with 80 million people being pushed back into poverty.
These are sad and scary statistics. But as always, I prefer to focus on the positive. The webinar – and many similar ones that have taken place in recent times – was a sign that people are aware and are talking about what can be done to avert these looming crises. Emergency food assistance interventions are on standby. Nutrition-focused projects as an alternative to school feeding programmes are being implemented. Safety nets are being built for smallholder farmers to increase productivity, reduce post-harvest losses, adopt climate resilient agricultural practices, remove artificial constraints to domestic trade and access e-commerce opportunities. It is predicted that there will be a spurt of innovation, including the acceleration of robotics and vertical farming, with horticultural crops and perishables being produced in controlled environments, closer to the source. E-commerce solutions had taken off in China and India, and in some countries in Africa where mobile money is commonly used. The best news that I took away from the webinar was: there is enough food available for all – something I have noted in a previous blog post. With careful coordination between multiple actors – governments, the private sector, and the international development community, we can ensure that no one will starve.
Anish shared various measures that ETG had taken to ensure that sufficient quantities of essential food commodities were supplied to the market with the endorsement and support of national governments. Health and safety precautions were given top priority at factories and plants, where ETG has taken bespoke Covid-19 insurance for its workers  to prioritise their safety. Residential facilities for staff were expanded to accommodate more employees and minimise their exposure to potential infection outside. In some countries with higher risk, ETG had organised special buses to ferry the employees to and from work and hence avoid travel in public transport. Doctors were made available and thorough sanitisation procedures were put into effect. Management teams collaborated with local governments and WHO medical support staff to deliver health and safety training for all staff.
As we settle into the "new normal," it seems as if organisations everywhere are going to have to continue to adapt to an evolving situation, marked by uncertainty. And while we adapt, in our personal and professional lives, we should constantly remind ourselves that we are all in this together. Our actions, and their effects, are intertwined. The pandemic has shown us just how fragile our globalised world is – ripples in one part have an unprecedented reaction in another. Now is the time to cooperate, collaborate, and think collectively.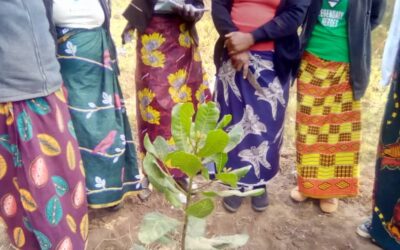 Youth migration from rural areas to the urban areas is one of the challenges being faced everywhere, but especially in Africa. The trend seems to have reversed by the intervention of organisations such as EFF that are empowering the youth in the rural areas, thereby preempting the urban migration.
read more